Payment Options
During your initial visit, a Treatment Coordinator will discuss all payment options and work with you to make the treatment as affordable as possible. We are happy to offer 0% in-house financing and are able to customize payment plans to meet most family's needs. For your convenience, monthly payments can be set up on auto-pay directly from a chequing account or credit card.
In addition, we do offer a discount when payment is made in full or when multiple family members are receiving orthodontic treatment with our office.
Our goal is to make your orthodontic treatment a reality and we are here to help.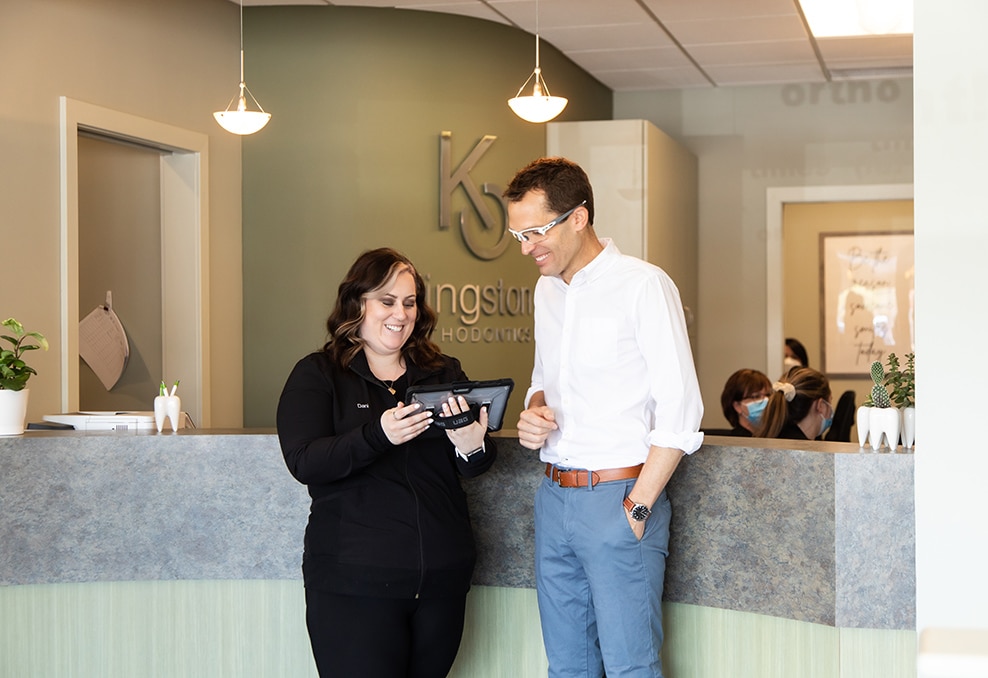 Insurance
While Kingston Orthodontics is not able to communicate directly with insurance companies, nor do we accept assignment of benefits, we are here to support our patients and their families with the information they may require to claim their insurance. If you have an app, or insurance booklet that you would like to bring to your initial visit we would be more than happy to help you understand your orthodontic benefits and help build a payment plan to suit.
The checklist below is information you will want to gather from your insurance provider, in order to be more prepared for orthodontic treatment:
How much coverage do I have for Orthodontics? Orthodontic Insurance is typically structured as a maximum lifetime amount per person. Coverage for the specialty of Orthodontics will also be separate from dental coverage.
How does my insurance reimburse? Because orthodontic treatment takes months for completion, most policies pay out claims divided over estimated treatment time vs reimbursement in lump sums, even if you choose to pay in full.
Our office is happy to extend no interest payment plans to our patients. While Kingston Orthodontics is quite flexible with our payment options, and prefer to customize payments to match the family's preferences, insurance does have guidelines and maximum claim limits in place. Knowing your providers 'rules' will help ensure a smoother claim process.
If your insurance company will not reimburse in one lump sum but you choose to make payment in full, your insurance is not voided. However, you will need to be prepared that it will take months to fully collect on your policy. Our office can help you with the claim information you will need, should you choose to make payment in full and claim insurance.
Is there an age restriction for treatment? Adult Orthodontics is increasing in popularity; however, some policies have age restrictions.
During your initial exam, your treatment coordinator can provide insurance predetermination(s) that align with your treatment plan. Sending a predetermination to your insurance company, will prompt a response from your provider with details about your policy. However, the same information can be more swiftly obtained via apps, or by calling your provider. While insurance providers appreciate predeterminations, they are not a pre-requisite to commencing treatment.
Once treatment begins, we will assist you with the forms that are required for insurance submission and reimbursement, however it is the responsibility of the patient to complete the submission.